In collaboration with Trouble Brewing and Heckin' Unicorn, we bring you the one-off, special edition Unicorn Ale that proudly celebrates and supports Oogachaga's cause.
The core part of the design is 'Heckin Unicorn' - a symbol created by local artist Teo Yu Sheng. Trouble Brewing will donate a portion of sales to Oogachaga, to continue supporting Singapore's LGBTQ+ community, and helping to further the conversation towards empowering individuals, couples and families to live a better life for themselves.
Functionally, the product really is a unicorn - the rare combination of a fruit ale/ cider that isn't too sweet, nor is it too light that it feels like drinking apple juice. And as a bonus - it will be turned pink, to help further differentiate it from the crowd!
Available from these fabulous queer-friendly venues NOW:
For all direct and venue sales enquiries, please contact: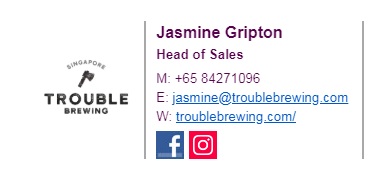 Head of Sales
84271096
jasmine@troublebrewing.com